Welcome to the Boca Raton Branch of the National League of American Pen Women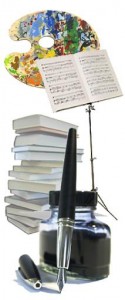 The National League of American Pen Women was founded in 1897 to promote
The branch holds program luncheon meetings the 3rd Thursday of the month, from 
November
 through May, at the 
Delray Beach Golf Club
. Creativity workshops and exhibitions are also held at various times throughout the year for members and the general public. Please check the monthly 
newsletter
 for details.
the development of creative women in the arts. Our Boca Raton Branch is the largest branch in Florida, and one of the largest in the nation. In April 2016, we will celebrate our 40th birthday!
Our branch, whose proud history originated with a modest "baker's dozen" in 1975, now boasts nearly 100 members. They bring diverse talents in all areas of the arts, not only to our monthly program luncheons, but to the entire community. Among our members you'll find newspaper and magazine writers, screenplay and book authors, sculptors and painters in all media, photographers, public relations and advertising experts, musicians and composers.
Our branch has long been active in the community, routinely reaching out with writing programs and contests, as well as public art shows. We also develop programs with longer and more involved goals. We developed an outreach program with the Gateways Book Program to aid those incarcerated in the Girls Juvenile Detention Center in West Palm Beach.  Another program helped Palm Beach County teachers by offering our members' talents and expertise in the arts for use in the classroom. We plan and  organize programs at the Milagro  Center in Delray Beach to enrich the lives of children and teens. These outreach programs are important not only in serving the community, but because they help the organization maintain its not-for-profit, 501(c)(3) status.
Our Scholarship Program provides monetary awards to outstanding graduates from Palm Beach County colleges and universities to promote their careers in the fields of art, writing and music. Candidates for awards are selected every two years.
The Boca Raton Branch is an active member of the Florida State Association and the NLAPW. Jean Holmes was a two-term past president of the Boca Branch in 1994 – 1996. She also served two terms as Florida State Association President and was President of the National League of American Pen Women in 2010 – 2012. Mary Twitty served as President of the Boca Raton Branch in 2011 – 2013. She served as Parliamentarian for the Florida State Association in 2014 – 2015, and currently serves as Parliamentarian for the Boca Raton Branch. Sheila Firestone, Boca Raton Branch music member, served a two-year term as First Vice President of the Florida State Association in 2010 – 2012, and currently serves as President of the Boca Raton Branch for the 2014 – 2016 term.
The Boca Raton Branch holds program luncheon meetings the 3rd Thursday of the month, from October through May, at the Delray Beach Golf Club. (See the Contact Us page for location details.)
For specific information about becoming a member of the Boca Raton Branch, please visit our Membership page.