The Boca Raton Branch National League of American Pen Women (NLAPW) hosted a holiday party on Friday, December 15, 2017 for local teens enrolled in the Milagro Expressive Arts Program.
The celebration was held at the Milagro Center in Delray Beach, Florida and featured talent presentations by the teens, including poetry readings, singing, and music played on drums, piano and guitar. Mr. Ian and Ms. Jeaneen offered helping hands with the talent presentations.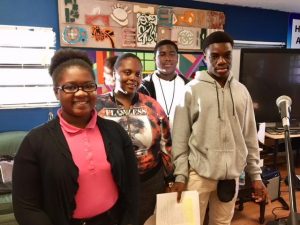 The teens expressed their appreciation of the Milagro Center for helping them improve their grades in school. Those who participate in the Milagro Center's after-school program learn many new skills in writing, art and music, and discover new interests.
Everyone enjoyed the refreshments – a platter of sandwiches, salads, fruit, cookies and popcorn. Holiday gift bags and gift cards were distributed to all the teens who attended the event.
Pen Women Sheila Firestone, Marlene Klotz, Carol White, Rhoda Schaffer and Elaine Bossik were on hand to help with party activities.
Sheila Firestone, President of the Boca Raton Branch NLAPW, organized the party to benefit students who participate in the many after-school enrichment activities offered at the Milagro Teen Center, under the direction of Mr. Anthony, Mr. Ian and Ms. Jeaneen.
This special event was made possible through generous contributions from members of the Boca Raton Branch NLAPW.