The Boca Raton Branch National League of American Pen Women held a free family festival on Saturday, March 4, 2017 at the Center for Spiritual Living in Boca Raton, Florida.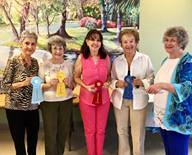 A ju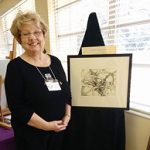 ried art show and reception, organized by artist Barb Capeletti, was the opening event of the day. The talented Pen women artists exhibited their work in the Center's gallery. A lively reception with refreshments followed. The art will be on exhibit throughout the month of March.
Artist Prue Carrico demonstrated her exceptional drawing skills throughout the day, creating an intricate colored pencil drawing.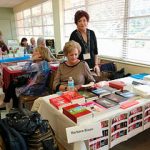 Pen Women authors exhibited their published books and were on site to discuss their work.
Authors Dr. Myra Levick and Carol White presented an author talk and shared insights into their work.
Carol White, novelist, essayist, and playwright, discussed her fiction. Dr. Myra Levick, a pioneer in art p
sychotherapy for children and author of several books and numerous journal articles on the subject, provided fascinating facts about children's development.
Published poet Marlene Klotz led a poetry workshop for children.
Vera Ripp Hirschhorn and Dayle Herstik presented an interactive adult poetry and collage
creation program. Author Meryl Davids Landau shared her expertise in publishing in a workshop on how to self publish. Brenda Dressler, who attended the workshop, said, "Meryl's workshop on self-publishing was very informative. She reviewed resources that are available on editing, book design, printing and marketing, and her suggestions for my book were on point."
Everyone in attendance gathered to enjoy the enactment of an original, whimsical musical story—the Peace Patch—composed by Sheila Firestone.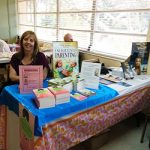 Raffle winners were delighted with many valuable prizes, including jewelry, autographed books, spa treatments, and much more. Proceeds from the raffle sales will benefit the Boca Raton Pen Women Scholarship Fund.
The closing event of the festival was Sheila Firestone's piano concert, featuring her original music, The Grandchildren's Suite.