The Boca Raton Branch National League of American Pen Women (NLAPW) hosted a holiday celebration on Friday, December 16, 2016 for teens who participate in the Milagro Expressive Arts Program.
The lively party, held at the Milagro Center in Delray Beach, Florida, featured singing, dancing, drumming, storytelling and kazoo playing. Sheila Firestone, Danya Firestone (a visiting college student), Marlene Klotz, Meryle Davids Landau, Etta Schaeffer and Carol White were on hand to help with party activities.
The teens enjoyed tasty refreshments, provided by Fresh Market of Delray Beach, that included a platter of sandwiches, a cheese/fruit tray and cookies. Many holiday gifts were distributed to the teens — gift cards, packets of Sharpie pens for art projects, and 2017 Top Dog Model Calendars donated by Jo Jo Harder.
Sheila Firestone, President of the Boca Raton Branch NLAPW, planned the event to benefit students who attend the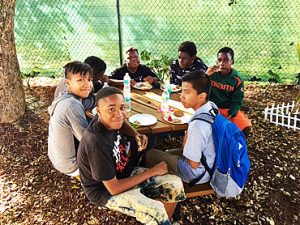 many after school enrichment activities offered at the Milagro Teen Center, under the direction of Mr. Anthony and Ms. Jeaneen.
This special event was made possible through generous contributions from members of the Boca Raton Branch NLAPW and Fresh Market of Delray Beach.